Since starting on this journey in 2017, there are now over 4,000 acres of Bee Better Certified almond farmland in California.
With a robust set of requirements on pesticide use and the highest standards for protecting and restoring pollinator habitat of any food certification, Bee Better Certified represents a new era in biodiversity protection on farms—and what better time to celebrate this program's growth than during Earth Week? We've been working hard to launch BBC within a number of different crop sectors, but almonds have always been on the top of our list due to their dependence on pollinators, the scale of the industry, and the limited pollinator habitat that exists in California's Central Valley—one of the world's main almond production areas, and one of the most intensively farmed landscapes on earth.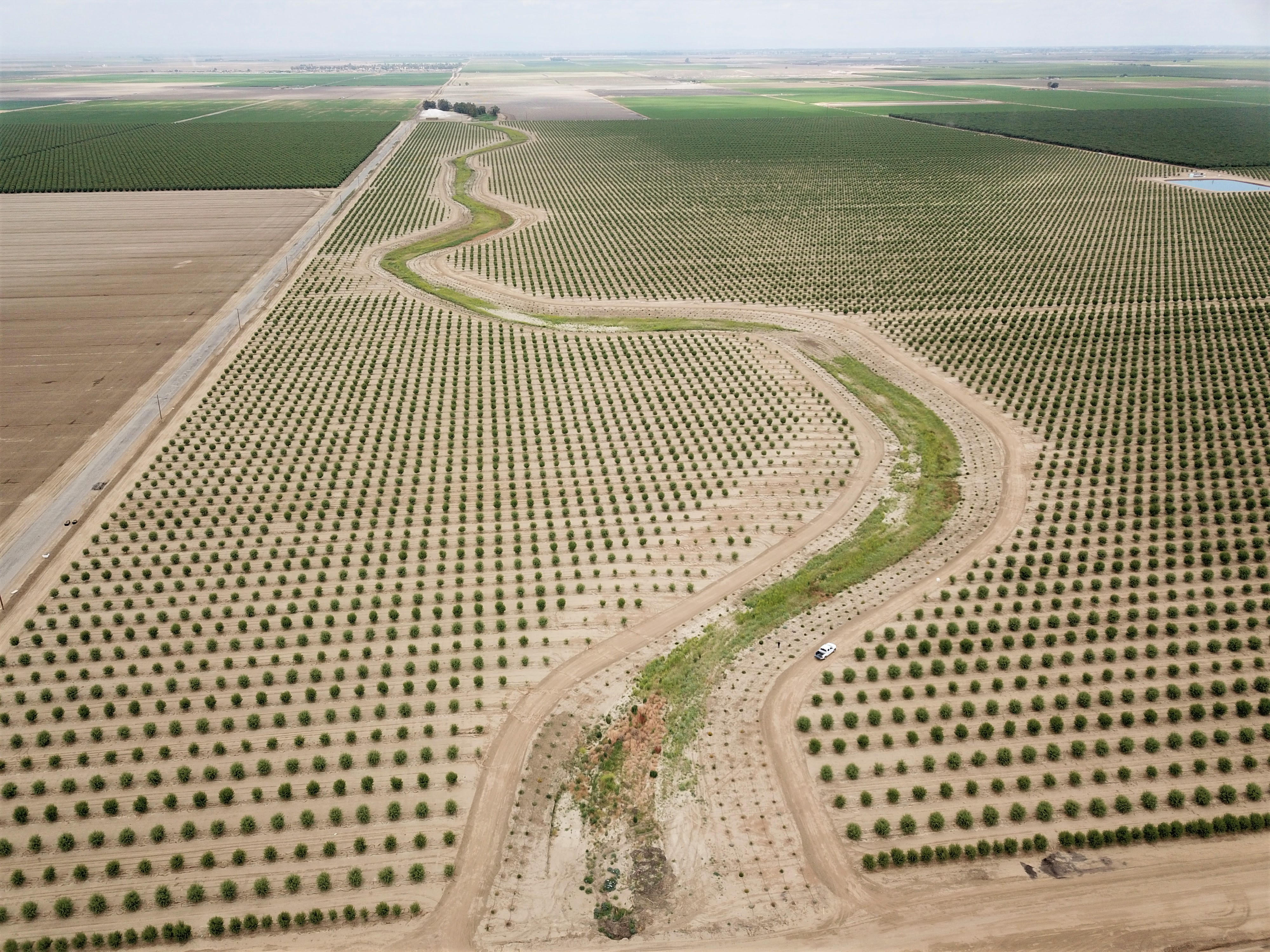 For the past few years, we have been partnering with a fantastic group of forward-thinking almond producers to get their farms certified, and to get their products available in the marketplace. The results of these efforts have thus far been a great success. Since starting on this journey in 2017, there are now over 4,000 acres of Bee Better Certified almond farmland in California. New habitat installed under BBC guidelines includes over 25 miles of hedgerow plantings. Additionally, there are several thousand acres of habitat being prepared for Bee Better certification.
Working with these large-scale producers has given us the opportunity to get lots of habitat on the ground, fast. With growing bodies of evidence that insect and pollinator populations are in jeopardy, we feel that urgent action is critical.
To share these results with the broader community — including California almond producers, USDA staff, local conservation agencies, and members of the food industry, media, and the general public — we held our first BBC Field Day at the newly certified Erdman Family Farms in Arbuckle, California, on April 10th, 2019.
With more than 20 people present, the field day included BBC staff presentations on the following topics, including field tours of flowering cover crops and permanent habitat areas:
Overview of Bee Better Requirements and Certification Process, by Cameron Newell of Bee Better Certified / The Xerces Society.
Bee Better Habitat Requirements, by Kitty Bolte and Jessa Kay-Cruz of Bee Better Certified / The Xerces Society.
Field Examples of Permanent Habitat, by Jessa Kay Cruz.
We were thrilled to have several guest speakers join us for the event, to discuss the following topics:
Benefits of Habitat to Farming Systems, by Dani Lightle, UCCE Orchard Systems Advisor, Glenn County, and Sequoia Williams, Junior Research Specialist, Gaudin Lab at UC Davis.
A Grower Perspective on Habitat, by our Field Day hosts, Pat and Kim Gallagher of Erdman Family Farms.
Cost-Share programs available to Farmers to Install Habitat, by Liz Harper, Executive Director, Colusa RCD, and Wendy Krehbiel, District Conservationist, Colusa NRCS.
In the months ahead, we will be working with the food industry to bring the first products made with BBC almonds to supermarket shelves. This will be a huge milestone for the program, giving producers and consumers the opportunity to support products and ingredients that are grown in ways that support bees, butterflies, and other beneficial insects. In the meantime, we are also continuing our collaboration with grain, fruit, and vegetable producers who are also working to certify their farms.
All of this work is made possible through a great partnership with BBC's national third-party certifier Oregon Tilth, the USDA NRCS, which has provided core funding through the CIG program, and through individual Xerces members and supporters who have helped us work on transformative food systems and conservation initiatives through generous donations.
Additional Resources
Check out all of our Earth Week content!
To learn more about Bee Better Certified Production Standards and the certification, visit the Document Center on our website or email [email protected].
Learn more about the Xerces Society's Pollinator Conservation Program.