(N Extension EC1564)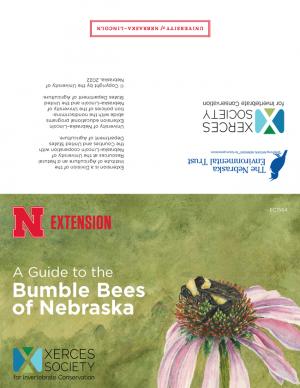 By Katie Lamke, Doug Golick (University of Nebraska-Lincoln), Leif Richardson, Jennifer Hopwood, Rae Powers, and Rich Hatfield
Nebraska is home to 20 species of bumble bees that play a critical role in sustaining the health of our environment. This pocket guide is intended to aid community scientists in identifying bumble bees without a microscope. Each species has a detailed profile that includes an occurrence map, a description and illustration of identifying features, a photograph, as well as natural history notes. A Guide to the Bumble Bees of Nebraska was produced using all electronically-available data, spanning the early 1900s through 2021.
This guide is a product of the Nebraska Bumble Bee Atlas, a statewide community science project aimed at tracking and conserving Nebraska's native bumble bees. Many thanks are owed to the community scientists who participated in the Atlas between 2019-2021 for impacting the future of bumble bee conservation and making this guide possible. As of 2021, the Nebraska Bumble Bee Atlas is the largest bumble bee collection event in the state's history—with 5,700 bumble bee observations collected between 2019-2021!
The Nebraska Bumble Bee Atlas is led by the Xerces Society for Invertebrate Conservation in collaboration with the University of Nebraska-Lincoln, with grant funding from the Nebraska Environmental Trust (19-132).