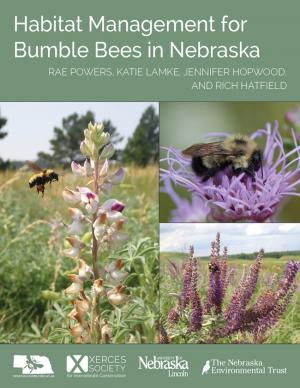 By Rae Powers, Katie Lamke, Jennifer Hopwood, and Rich Hatfield
In the past twenty years, only 15 species of bumble bees have been observed in Nebraska, five fewer species than historically recorded between 1800–2001. While these declines are not fully understood, contributing factors include habitat loss, pesticide exposure, climate change, low genetic diversity, and the amplification and distribution of pathogens through commercial pollinators. The most immediate and productive steps that we can take to conserve these imperiled pollinators is to intentionally manage and restore existing habitat and/ or create additional habitat.
The recommendations in this guide combine the latest understanding of bumble bee habitat needs with lessons learned from the Nebraska Bumble Bee Atlas (NEBBA). NEBBA is a collaborative effort between the University of Nebraska-Lincoln and the Xerces Society with support from the Nebraska Environmental Trust. NEBBA data informed this document and will continue to contribute to ongoing research, all of which is possible because of the time and effort from the many community scientists who traversed the state to conduct bumble bee and landscape surveys.