Ecological Pest Control Solutions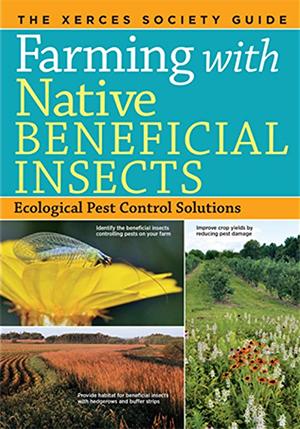 Authors Eric Lee-Mäder, Jennifer Hopwood, Mace Vaughan, Scott Hoffman Black, and Lora Morandin discuss the ecology of native beneficial insects and how to increase their numbers on your farm through simple conservation strategies.
Lady beetles, syrphid flies, lacewings, and other beneficial insects prey upon crop pests, reducing or eliminating the need for pesticides. This comprehensive guide describes how to recognize these insects and their habitat, and how to evaluate, design, and improve habitat for them. Close-up photography and in-depth profiles familiarize you with more than 20 beneficial insects and their kin. Step-by-step illustrated instructions detail specific solutions including native plant field borders, mass insectary plantings, hedgerows, cover crops, buffer strips, beetle banks, and brush piles.
Paperback, 272 pages. Published by Storey Publishing.
Praise for Farming with Native Beneficial Insects:
"If you are a grower or a backyard gardener, this is a 'must have.' Readable and filled with gorgeous photos and handy charts, this book provides reams of information about how to get the upper hand on your pest issues with reduced or no pesticide use."
-Claire Kremen, professor and co-director of the Berkeley Food Institute, University of California, Berkeley
Get a Copy From the Xerces Gift Center