Hands-on training courses guide keen volunteers looking to gain greater skills in bumble bee identification and community science–data collection.
During this year's Pollinator Week (June 18 to 24), multiple locations in Ontario and Alberta were buzzing with activity, including an assortment of Bumble Bee Watch community-science training events led by Wildlife Preservation Canada (WPC).
Although anyone with a camera and internet access can participate in Bumble Bee Watch, a variety of projects are sprouting up throughout Canada and the United States to help give more direct guidance to keen volunteers looking to gain greater skills in bumble bee identification and community science–data collection. With the assistance of hands-on training in how to catch bumble bees and take high-quality photos, WPC's passionate community scientists are helping collect important information—including observations of at-risk species—about the abundance and diversity of bumble bees in important areas.
WPC's Native Pollinator Initiative staff have led many activities this summer, including classroom sessions, hands-on training courses, information presentations, and "train-the-trainer" events for organizations interested in hosting their own volunteer survey programs. Check out highlights!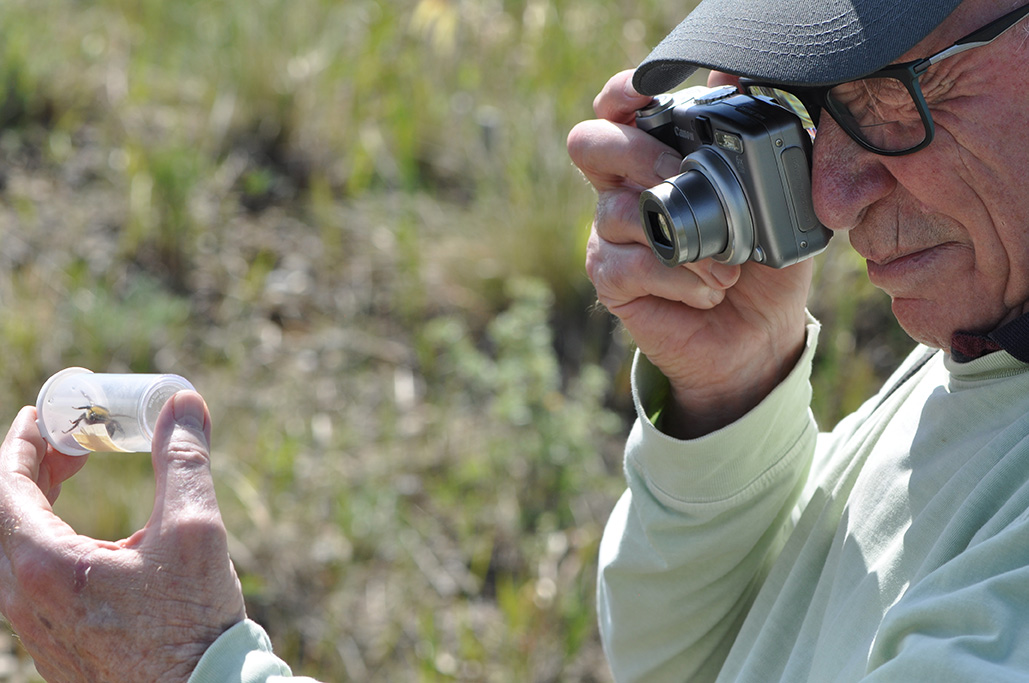 Glenbow Ranch Provincial Park, Alberta
Glenbow Ranch is a park located where the Rocky Mountain foothills meet prairie grasslands. It is both a protected area and a working ranch with free-roaming cattle. More than 50 people participated in a series of sessions in which they learned how to identify bumble bees and help collect data on the diverse pollinator populations that call Glenbow Ranch home.
The training began with weeknight classroom sessions at a local library, where volunteers received an introduction to native bee conservation and the chance to practice bumble bee identification using regionally based materials developed specifically for the community-science program.
These sessions culminated in hands-on training at the park on a sunny day, perfect for collecting bumble bees. Participants learned how to safely catch individuals in a net, transfer them into clear plastic vials, and take photos of them to submit to Bumble Bee Watch. All newly trained community scientists then had the opportunity to practice their skills by catching and identifying bumble bees, locating eight different species in just a few hours.
Glenbow Ranch was selected as a target location for the program because of the presence of the western bumble bee (Bombus occidentalis), a threatened species that has declined rapidly since the mid-1990s. The day's observations included the two form bumble bee (B. bifarius), tricolored bumble bee (B. ternarius), central bumble bee (B. centralis), indiscriminate cuckoo bumble bee (B. insularis), frigid bumble bee (B. frigidus), Hunt's bumble bee (B. huntii), Nevada bumble bee (B. nevadensis), and—an extra-exciting find—the yellow-banded bumble bee (B. terricola). Never before observed at Glenbow Ranch, the yellow-banded bumble bee is a species of special concern in Canada that is quite rare in southern Alberta. With the help of volunteers, we now have confirmed two rare bumble bees within park boundaries.
Pinery Provincial Park, Ontario
Pinery Provincial Park is a long drive from any large city center, and so WPC typically holds a single training event with both classroom and hands-on components on the same day. Unfortunately, events are dependent on weather, and the first training session was rained out (bumble bees aren't very good at swimming) and has been rescheduled for a day we hope will bring sunnier skies. However, over a dozen dedicated participants attended the presentation component of the training, getting a crash course in bumble bee identification and program protocols.
In a few weeks, after the newly minted community scientists have been fully briefed in all aspects of how to catch and photograph bumble bees for the Pinery program, participants can sign up for independent survey slots throughout the summer, with plenty of location options throughout the park to choose from. They will then be free to begin their intensive search for the elusive rusty patched bumble bee (B. affinis). Pinery Park is the last place this bee was seen in Canada, in 2009, but there is renewed hope every year that with the help of community scientists we can relocate populations that have been lost.
Get Involved!
Wildlife Preservation Canada's community science programs strive to create a national dedicated to preserving and protecting bumble bee species, and we hope that expansion of the train-the-trainer program will complement well-established projects at Pinery Provincial Park and Glenbow Ranch Provincial Park.
If you live in Alberta, Ontario, or elsewhere in Canada and are interested in getting involved or supporting growth in any of the above programs, just send us an email. Happy bee hunting!