Population of monarchs overwintering in California at lowest level ever recorded.
Expert Contacts
Emma Pelton, Endangered Species Conservation Biologist
[email protected] | (971) 533-7245
Sarina Jepsen, Endangered Species Program Director
[email protected] | (971) 244-3727
---
PORTLAND, Ore.; Thursday, 1/17/19—The population of monarch butterflies overwintering in California has fallen to the lowest level ever recorded. Surveys done by volunteers with the Western Monarch Thanksgiving Count found only 28,429 butterflies, an 85.2% fall from the previous year—and a 99.4% decline from the number of monarchs in the state in the 1980s. The results of the count were released Thursday by the Xerces Society for Invertebrate Conservation, along with a Western Monarch Call to Action.
"To picture what this means for monarchs, imagine that the population of Los Angeles had shrunk to that of the town of Monterey," said Emma Pelton, a monarch conservation expert with the Xerces Society.
Faced with these alarming numbers, Pelton has worked with monarch scientists at institutions across the West to develop the Western Monarch Call to Action, a five-point rapid-response action plan to rescue the western population of the monarch butterfly.
The most immediate priority in the coming weeks is to ensure monarchs have nectar to fuel their flight and milkweeds on which they can lay their eggs when they leave the overwintering sites. This is something that everyone in California can help with right now: plant early blooming native flowers and milkweed to restore breeding and migratory habitat. Monarchs will use plants growing in gardens, parks, along railroads, on farms and anywhere else they can find them.
"It's easy to give up when faced with news like this," said Pelton. "But doing nothing is not an option."
Of equal importance to ensuring monarchs have flowers is protecting their overwintering sites. Each year, the groves they shelter in are destroyed or damaged by development or inappropriate tree trimming. This needs to be halted and the groves given adequate protection and management, so that monarchs have a place to return to next fall.
There are important questions that remain unanswered about monarchs, such as a detailed understanding of where they go right after they leave the overwintering sites. People can watch out for monarchs and report what they see to the online Western Monarch Milkweed Mapper project to help inform conservation strategies.
Other important actions include reducing pesticide use, so monarch have clean places to feed and breed, and identifying and enhancing areas across the western states where monarchs fly to during the summer.
Many state and federal agencies, farmers, nonprofits and individuals are increasing their conservation efforts, but more work needs to be done.
"Saving the western monarch migration is not something that the Xerces Society can do alone" said Sarina Jepsen, director of the Xerces Society's endangered species program. "There are things that can be done by anyone in any place. We urge you to join us and our colleagues in the western monarch science and conservation community in taking meaningful, swift action to help save western monarchs."
The Xerces Society is taking action to protect the western population of monarchs. Xerces is pushing for protection of overwintering sites and working with partners to restore overwintering habitat near the coast. Also, working with farmers, natural area managers, California cities and others, we are planting and restoring habitat across the Central Valley—a key breeding and migration area for monarchs. In the last 18 months, we have restored 20 miles of hedgerows on farms, and in the coming year, we will be adding another 10 miles to further re-connect habitats. These hedgerows provide essential nectar sources, milkweed for breeding, and unsprayed refuge.
Xerces staff are working with the USDA-Natural Resources Conservation Service Plant Materials Center in California to conduct planting trials of milkweed and monarch nectar plants to develop best practices for establishing these plants in the state.
"Can we promise that monarchs will recover and fill California's skies again?" said Xerces Society Executive Director Scott Hoffman Black. "Sadly, no. But we are not going to be the generation that witnessed this loss and stood by and did nothing."
It is urgent that we focus on conservation across California and the west if we hope to have the best chance to save the western monarch migratory phenomenon, the overwintering aggregations and the tourist dollars that benefit California from visitors coming to see clustering monarchs.
The monarch population in eastern United States and which migrates to Mexico has declined by more than 80% in the last 20 years, but has not suffered the same alarming fall in numbers this year.
###
For More Information
To read the Western Monarch Call to Action and download a copy, visit savewesternmonarchs.org.
Photos available for media use are below.
Long-term data about the number of monarch butterflies in western North America, gathered by the Western Monarch Thanksgiving Count, is at westernmonarchcount.org.
Help expand knowledge of monarchs and their breeding areas in the western US by contributing sightings to the Western Monarch Milkweed Mapper project, at monarchmilkweedmapper.org.
Resources, Fact Sheets and Guidelines from the Xerces Society
Images for Media Use
Please email [email protected] if you require a different format.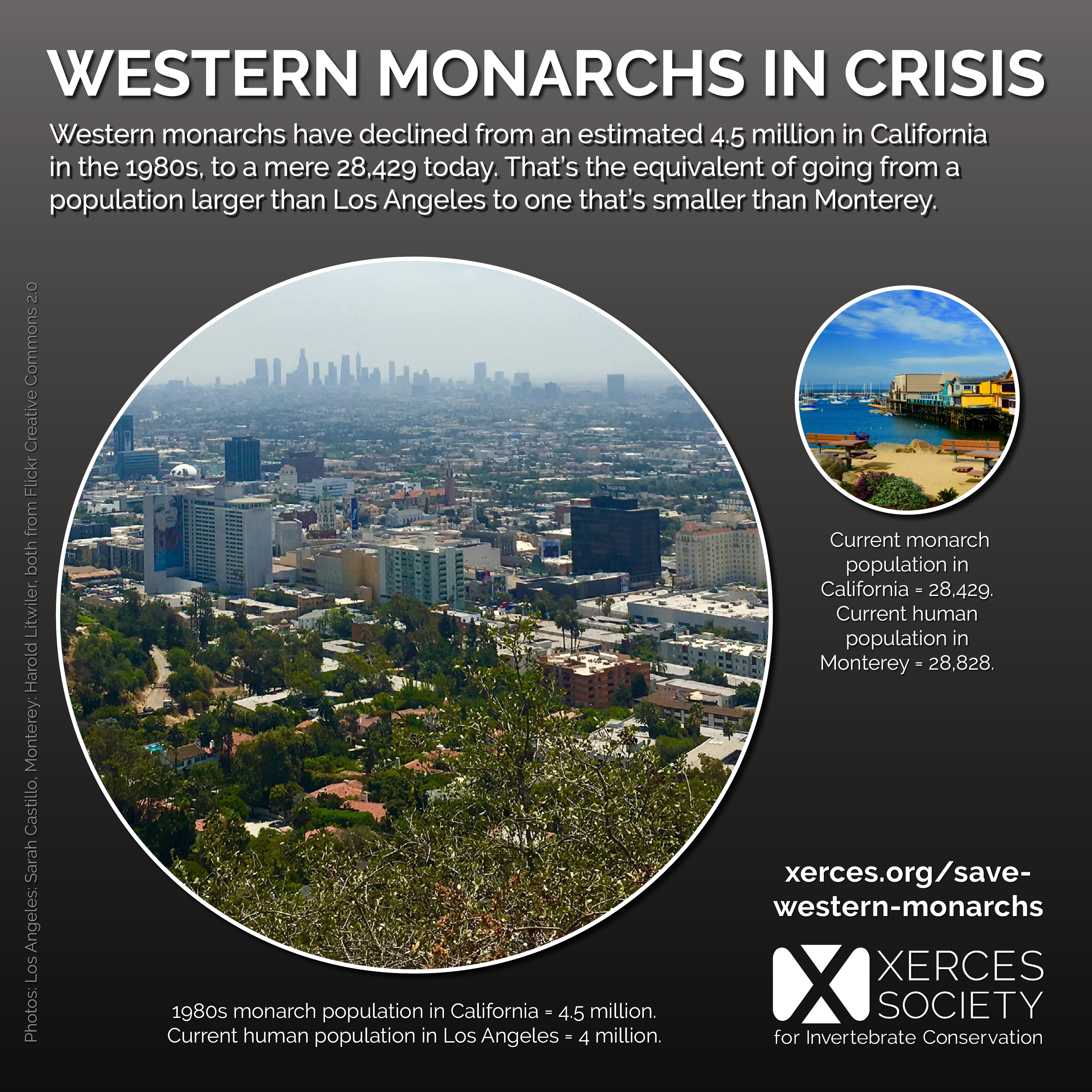 ---
ABOUT THE XERCES SOCIETY FOR INVERTEBRATE CONSERVATION
The Xerces Society is a nonprofit organization that protects the natural world by conserving invertebrates and their habitat. Established in 1971, the Society is a trusted source for science-based information and advice. We collaborate with people and institutions at all levels and our work to protect pollinators encompasses all landscapes. Our team draws together experts from the fields of habitat restoration, entomology, botany and conservation biology with a single passion: protecting the life that sustains us. To learn more about our work, please visit www.xerces.org or follow us @xercessociety on Twitter, Facebook or Instagram.