The western monarch population remains at a critical level. With some luck and a lot of hard work, we have hope that we can save this incredible migration.
After painstakingly documenting overwintering monarchs at 240 sites along the coast of California this fall, volunteers with the Western Monarch Thanksgiving Count reported 29,418 monarchs—less than 1% of the population in the 1980s and nearly identical to last year's all-time low. Bottom line: The western monarch population remains at a critical level.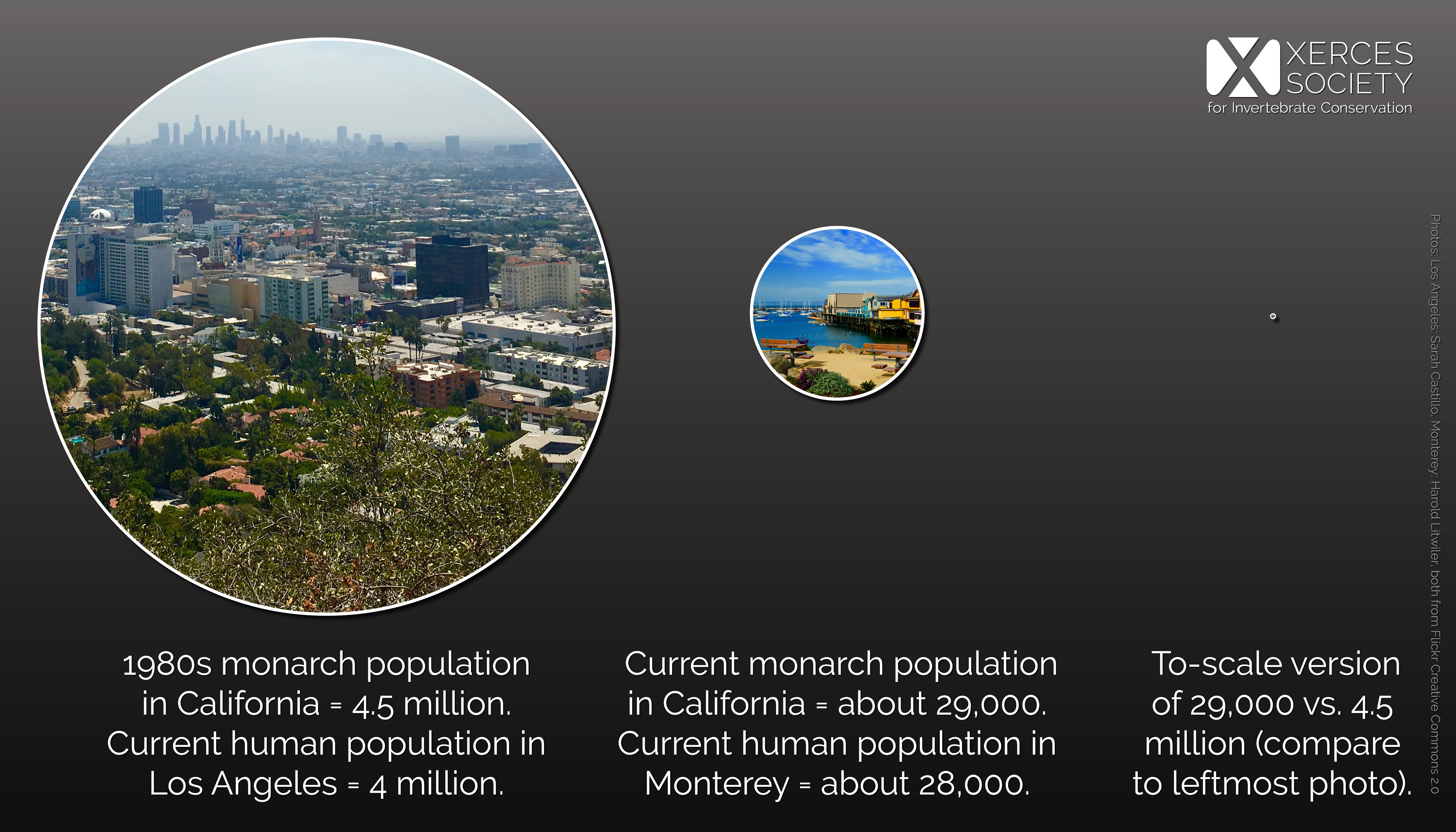 How Does this Year Compare to Last Year?
An analysis by professors Elizabeth Crone and Cheryl Schultz concluded that there's no meaningful difference between the 2018 and 2019 totals. Last year, 27,218 monarchs—the all-time low—were counted, but almost thirty fewer sites were visited. Statistically speaking, the population has held steady. Both years' counts are substantially lower than even just two or three years ago, when the population bounced between 200,000 and 300,000 butterflies. While it is encouraging that the population did not shrink any further, the number of overwintering monarchs in California continues to hover just below 30,000 monarchs—the minimum threshold estimate below which the population may collapse.
Signals in the Breeding Season
After 2018's all-time low count, many researchers and community scientists were eagerly looking for monarchs during the spring and summer across the western states. Unfortunately, very few monarchs were reported in their northern breeding grounds of Washington, Oregon, and Idaho throughout the year. The picture was a little more mixed in California. A breeding phenology study led by Washington State University, Tufts University, and the Xerces Society saw more monarch caterpillars at study sites in both the northern Central Valley and southern California compared to 2018, giving us some (cautious) early optimism. Read more about that study and other summer observations here. Meanwhile, Art Shapiro, who runs a 47 years-and-counting butterfly monitoring project at transects across northern California, concluded that  "Last year was the worst monarch...year in the history of my transect[s]—until this year," indicating that the picture was grim in other parts of the state.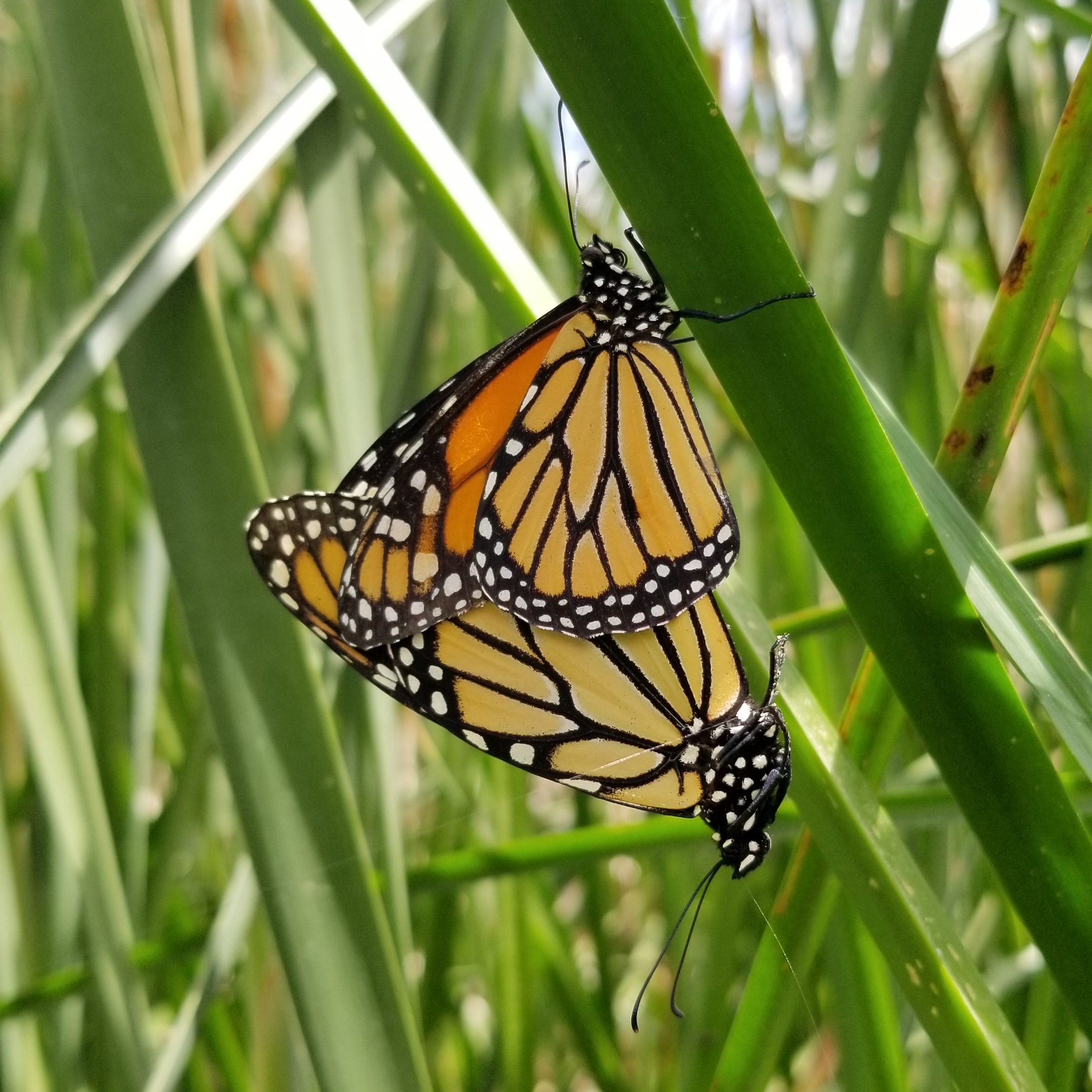 The Power of Community Science
The Western Monarch Thanksgiving and New Year's Counts (WMTC) would not exist without the dozen dedicated regional coordinators and over 100 volunteers who participate each year. Volunteers counted 240 sites this season—an impressive effort, especially considering the morale challenges of visiting many sites with no or few monarchs. While each volunteer may only see the butterflies (or missing butterflies) at one or a few sites, each of those data points, knitted together, allows us to see a bigger picture of the state of western monarchs. We asked some of our coordinators and volunteers to offer their local observations of this year's count:
"Community scientists watched out early for monarch arrival this year in the San Francisco Bay region. It had us all looking at autumnal roost sites more carefully...sometimes these were the only places we saw monarchs this season, confirming their value during times of stress (again another hot, dry, smoky and prolonged fall)."

- Mia Monroe, WMTC co-founder and coordinator in Marin County
"In Santa Cruz, a few of the overwintering groves (i.e., Lighthouse Field, Natural Bridges, Moran Lake) appear to comprise a dynamic site network with interchange of butterflies across the groves likely occurring throughout the season."

- Samantha Marcum, WMTC volunteer in Santa Cruz
"

It's exciting that new overwintering sites are still being discovered occasionally. One great example is a new site in Monterey County. Volunteer Daniel Richards and Sarah Cheney found this site last year and counted several hundred butterflies both last year and again this year."

- Stephanie McKnight, Xerces Endangered Species Conservation Biologist and WMTC coordinator
"With so few monarchs to distract one with their beauty, I have become acutely aware that mother nature is looking very tired and worn out in these overwintering sites. Something needs to be done to manage the overwintering habitat and it needs to be done now."

- Connie Masotti, WMTC coordinator in Monterey County
"We had good coverage of the historic overwintering sites [in San Diego], and the recent pattern of very few roosting monarchs is holding."

- Eric Porter, WMTC coordinator in San Diego County
Looking Back
We would not be talking about the Western Monarch Thanksgiving Count today if it were not for the people who had the vision 23 years ago to start an annual count in the first place. Sadly, in 2019, we lost two of the three WMTC co-founders, Dennis Frey and David Marriott, who, along with current count co-coordinator Mia Monroe, started the count way back in 1997.
Both Dennis and David contributed greatly to western monarch conservation: Dennis published research and started the Monarch Alert program (along with Ventana Wildlife Society) and as a professor at California Polytechnic State University (Cal Poly), he inspired generations of students to get involved with monarchs—including our current Santa Barbara coordinator, Charis van der Heide. (Monarch Alert is currently run by Cal Poly professor Francis Villablanca.)
David founded The Monarch Program, a nonprofit in southern California which—among other activities—distributed a popular monthly publication, "The Monarch Newsletter," which shared research, conservation efforts, and updates on WMTC numbers with monarch enthusiasts through the 1990s and early 2000s.
We remember both Dennis and David and thank them for their efforts to create the Western Monarch Thanksgiving Count.
Looking Forward
Western monarchs are in big trouble. We need everyone to do their part to take action and help conserve the migration by tackling the threats they face—such as habitat loss, pesticides, and climate change. We need more native milkweed, fewer pesticides, more flowers rich in nectar, and real protection for overwintering sites. In particular, there remains a troubling and underappreciated lack of legal protection for overwintering sites in California. In the last four years alone, at least 21 overwintering sites—including both publicly and privately owned sites—have been destroyed or severely damaged by activities including inappropriate tree cutting, utility cutting, and development. At least four more sites are currently threatened by development and a large number of sites are in desperate need of restoration attention.
Check out our Western Monarch Call to Action and our This Is How You Can Help handout to learn more about how to support western monarchs during this crucial time. These actions will benefit monarchs and also support our many other native bees and butterflies—and even beetles and birds!
Xerces is excited to be launching a new project in 2020 to partner with California State Parks, Fiscalini Ranch, and the USDA Natural Resources Conservation District to expand our monarch conservation work in California. Through funding from the State of California's Wildlife Conservation Board, the California Department of Fish and Wildlife, the National Fish and Wildlife Foundation, and USDA Natural Resources Conservation Service (NRCS), we will be working with local managers, farmers, and ranchers to restore monarch habitat in the Central Valley and at overwintering sites along the coast over the next two to three years.
We also will work with native seed producers to increase the availability of some early emerging native milkweed species. This builds on our existing work with partners to advance monarch and pollinator conservation—including with habitat work (check out this fall's check out this fall's summary of the Monarch and Pollinator Habitat Kits pilot program), advocacy, research, and education.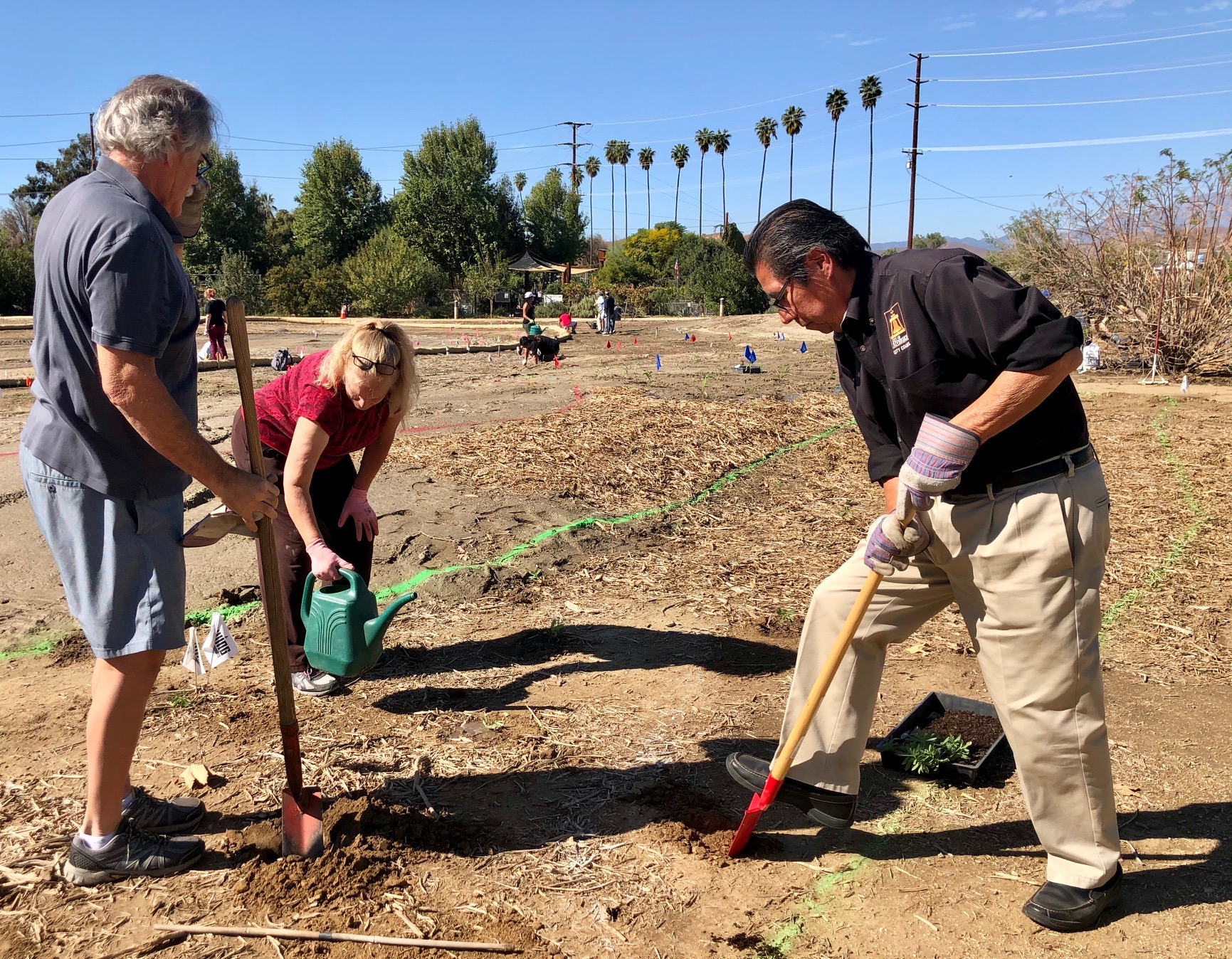 Xerces is also partnering with Ink Dwell to inspire people to take action. You can read more about Ink Dwell's fabulous murals in the fall issue of the Xerces magazine Wings. Ink Dwell will soon be finishing a new monarch mural in San Francisco.
Also, new this spring: The Western Monarch Mystery Challenge is a campaign running from February 14th to April 22nd, to collect more records of where western monarchs spend the spring in California, after leaving the overwintering sites. Take a photo of any wild monarchs you see and enter them on Facebook for a chance to win prizes. These records will contribute to the Western Monarch Milkweed Mapper.
While this situation may seem daunting, there are still monarchs migrating to the California coast and—with some luck and a lot of hard work—we have hope that we can save this incredible migration.
This year's count was supported by San Diego Zoo Global along with the support of Xerces Society members and foundation and corporate supporters. Thank you!
Additional Resources
Please see our Western Monarch Call to Action for key steps to support this imperiled population. Links to a variety of monarch conservation resources are featured there, as well.
Read our press release about the latest Western Monarch Thanksgiving Count results.
Learn more about the Western Monarch Thanksgiving Count here.
Check out the Western Monarch Milkweed Mapper⁠—a year-round community science effort⁠.